if you are fishing with a motorized boat, be careful not to spill gas or oil into the water. Gas and oil are both toxic to the waters and all of the species that live in them. Make sure that your boat is not leaking any fuel, and also make sure that the tires on your trailer are free from oil before backing it into the water.
If you are fishing from a boat and want to ensure that you work the very best fishing spot, consider using a fish finder. Fish finders are used to locate schools of fish in the water. Some diehard old timers shun the use of a fish finder and rely on instincts and luck. To them the fish finder is an advantage that should not be used in the sport of fishing.
Caution should be exercised when drinking while fishing! While many people feel that fishing is the perfect sport for a beer or other alcoholic beverages, care must be taken, especially when fishing from a boat. Additionally, alcohol is a quick route to stupid, but serious mistakes, such as a hook in someone's eye, or the loss of the day's catch.
If you are fishing on a river, you must understand that there is going to be a current that you must follow. Rivers are broken down into several pockets of fish, where you should position yourself to catch the highest volume. Positioning your boat in an area that is calm will help maximize your results.
Before you go out on your trip, one thing that you must confirm is that your phone is charged to full capacity. Sometimes, you may run out of gas or can experience a malfunction with your boat. In this event, it is important to have the ability to call for help.
Fishing involves a lot of very sharp equipment, and you want to be sure that you use it safely. Get into the habit of storing all of your sharp tackle (knives, hooks, and so on) safely when you are not using it. A loose knife in the bottom of the boat can ruin a good fishing trip.
When fishing, it is very important to keep noise to a minimum. Believe it or not, fish are extremely sensitive to noise. If you are sitting on the side of a lake or pond fishing, keep your voice level low and do not have a radio beside you blaring music or the ballgame. If you are fishing from a boat, refrain from banging around inside of your boat and from tossing your anchor noisily overboard.
Clean your waders, boots and boat before moving them into a new body of water, if you fish in a variety of locations. This prevents the spread of microorganisms, bacteria, viruses, and so forth, between different habitats. Non-native microbes can have devastating effects in bodies of water where plants or animals have no resistance.
As long as you use what you've read in this article, you should be able to increase your catch rate and have a really great time doing it. Enjoying the sport comes along with being successful at it, so make sure you start using these tips as soon as possible and you'll be eating fish for dinner!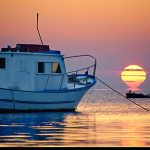 Photo by Moyan_Brenn