Before you buy your hooks and bait, think about what size of fish you're planning on catching. The bigger the fish, the bigger hooks and bait you'll need, but big bait will be wasted on smaller fish. You'll also want the size of the weights and bobbers you purchase to be in line with what you're hoping to catch.
Check the hooks on your lures as well as any hooks already on your line to ensure that they are sharp enough to bring a big fish in. If they will still scratch your nail then they are good to go, but if they are too blunt to do even that, then it is time to change them up.
If you are just starting out with fishing, don't overload your tackle box. You can find millions of different types of bait and pieces of equipment in the fishing supply store. Though they all serve a purpose, you don't necessarily need every piece. Start with a handful of different types of bait and a few different sized hooks and weights. You can always add more later once you have fine tuned your list of necessary products.
Be prepared before you head out to fish. Plan to be in the water for a few hours and bring the necessary tools with you. This can include a lunch, some sunscreen, a few drinks, extra fishing line and hooks, and the tools you need to make simple repairs to your rod and reel. If you don't do this, you might find that you have to leave your favorite spot before you have a chance to catch even one fish.
No matter where you fish, always leave your surroundings as clean as they were when you arrived. Never toss trash, fish hooks, used fishing line or any other waste in the water or on the shoreline. This not only demonstrates respect for your fellow anglers, but it protects the wildlife who inhabit the area.
If you are practicing catch and release, you should use barbless fishing hooks on your next fishing trip. The fish is less likely to be fatally injured when you throw it back.
Take time to practice the basics before heading out to the water, if you're new to fishing. Practice things like baiting hooks and tying knots. You don't want to head out in a boat until these tasks feel natural. Practice makes perfect, and repeating these tasks will have you fishing like a pro.
Always use the right kind of hook for the bait that you are using and make sure your hooks are sharp. These are the two biggest reasons anglers miss out on landing a good catch. If your hook is dull, it will not stick in the fish properly. If you have the wrong hook, your bait will be stolen by the fish, more often than not.
You should now have a greater insight when it comes to the world of fishing. Fishing is a hobby that isn't that hard to grasp and it is something people of all ages can enjoy. So go ahead and use the knowledge that you have gained today and get started with your fishing adventures.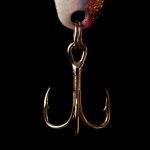 Photo by derekGavey